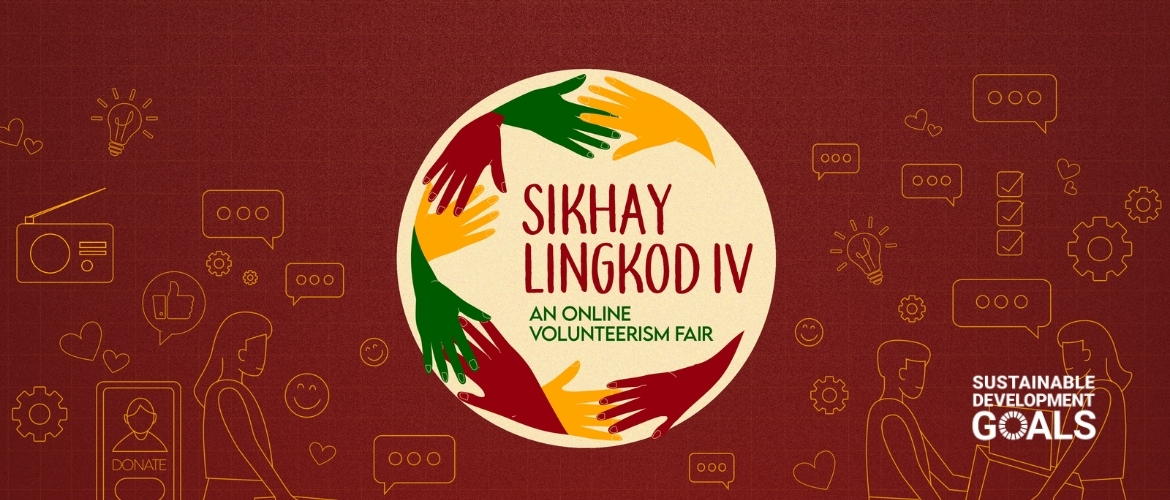 Sikhay Lingkod IV: An Online Volunteerism Fair is an annual forum that features groups from all around the country to talk about the different aspects of volunteerism as well as their group's advocacies. Aside from informing NSTP students and NSRC reservists about the importance of volunteerism, the event also aims to introduce you to various programs and projects that support the different sectors of our society. See if you want to be part of their advocacies.
---
Partner Organizations
Childhope Philippines Foundation, Inc
Childhope Philippines works toward the protection and fulfillment of children's rights through integrated direct service programs in education, health, and social services, they aim for the holistic growth of Filipino street children in Metro Manila.
UP Diliman Ugnayan ng Pahinungód
The UPD Ugnayan ng Pahinungód is a constituent office of the UP System Ugnayan ng Pahinungód which is the institutional volunteer service program of the University of the Philippines. It articulates the social responsibility of UP as a national university to serve the Filipino People.
Moreover, it is a venue for the values education among students, faculty staff, and alumni of the University.
UP MMDA Vanguard K9
The UPMV K9 is a volunteer organization that raises awareness and trains personal pets and their respective handler in community based disaster response programs.
BARK Mission, Inc.
BARK Mission is a Philippine-based nonprofit organization that supports independent rescuers who rescue cats and dogs in distress.
They facilitate rescued animals' adoptions, advocate for spay/neuter (kapon) to give all animals and people better lives, and promote and work with Filipino artists to fundraise for their activities.
BARK Mission envisions an animal-friendly culture amongst Filipinos where no stray cat or dog is left behind.
Kythe Foundation
Kythe is a non-profit, non-stock organization aimed towards improving the quality of life among hospitalized children with cancer and other chronic illness. We are a group of trained professionals providing the Child Life Services. As the only foundation in the Philippines offering the Kythe Child Life Services, we provide psychosocial support to over 18,000 children with cancer and other chronic illness and their families every year. Together with our hospital partners, donors and volunteers, we aim to promote healing and growth. We aim to inspire hope.
Volunteers' Initiatives in Bridging and Empowering Society (VIBES)
The Volunteers' Initiatives in Bridging and Empowering Society is a volunteers' hub of transformative young leaders for sustainable peace and development.
VIBES implements peacebuilding initiatives for societal development through key strategic areas such as peace promotion and advocacy, environmental justice, health and well-being, research and development, and linkages and networks.
As a youth-led and serving organization, we value volunteerism, innovation, benevolence, empowerment, and social inclusivity. In VIBES, we believe that "Every seed of kindness count".
Aral Pinoy
Aral Pinoy ay Pag-aaral na Alagang Pinoy. Aral Pinoy is dedicated to education for life-giving relationships. Aral Pinoy is committed to providing practical education to marginalized and indigenous communities across Luzon through a holistic and distinctly Filipino approach and with its four core values of maka-Diyos, makatao, makakalikasan and makabansa.
Aral Pinoy utilizes social media and its volunteer database, funds and donations from invaluable sponsors, and the altruism of our volunteers to forward a concern for the neglected that can resonate to the national level.
Ambagan PH
Ambagan PH is a national network of volunteers which aims to promote volunteerism and cooperation among Filipinos.
MISSION: Our mission is to mobilize volunteers to respond in crisis situations, calamities and disaster, and extreme poverty.
VISION: Uplift the life of people in target communities.
GOAL: Organize a network/alliance of volunteers that will gather support for the vulnerable/marginalized sectors of society.
Greenpeace
Greenpeace is an independent global campaigning organization that acts to change attitudes and behaviour, to protect and conserve the environment, and to promote peace. Greenpeace presence has contributed to the safeguarding of the Filipino's constitutional rights to a balanced and healthful ecology. Since it opened its office in Manila on March 1, 2000, Greenpeace, together with its allies and working with communities, has worked to champion renewable energy, combat illegal fishing and campaign for clean seas, support and amplify the Filipinos' call for climate justice, and call for the elimination of toxic chemicals in our environment. Today, Greenpeace Philippines continues to create positive change in the lives of millions of Filipinos as the country strives to grow and develop towards a sustainable future.
Urban Service with a Heart – Adopt-A-Tutee Program
URBAN SERVICE WITH A HEART- ADOPT-A-TUTEE PROGRAM MISSION/VISION
Holistic approach to one-on-one supplemental education of young women in Grades 2 to 10.
Character building through academic and cultural development and in instilling virtues and values in one's daily life, one person at a time.
Breaking the cycle of poverty through good education.